CEU-Tracking-Instructions


Submit Your Hours to the NSH CE Tracker

1. Sign In to your NSH Account
If you are new to NSH, you will need to create an account.
1. Once you are logged in go to your Dashboard and click Add CEUs from CE Tracker menu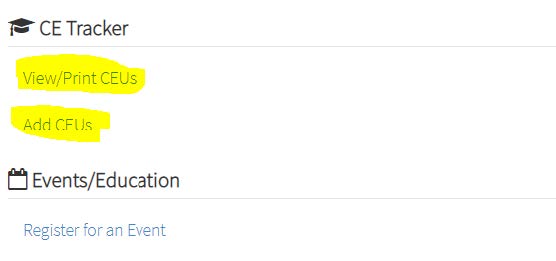 2. Add your CEUs for an event
a. Step 1: Year: Select the year in which the event was held.
b. Step 2: Event Title: All events approved in a specific year for CEUs by NSH are available to you to in this drop down list. Select the name of the event you attended. You will find your event name listed on the front side of this tracking sheet
c. Step 3: Session Title: Select a workshop you attended – each workshop needs to be added individually. The number of CEUs awarded for this session is preset and cannot be edited.
d. Step 4: Click the Submit CEUs button

3. Print your CEU certificate
a) To print your CEUs, select the View/Print CEUs menu option from your Account Dashboard.
b) If you only wish to print CEUs from event in given year, use the "Display Credits from" date filter at the top of the page. This will allow you to narrow down what is printed.
c) Click the Print button, a PDF file will then be generated for you to print or save