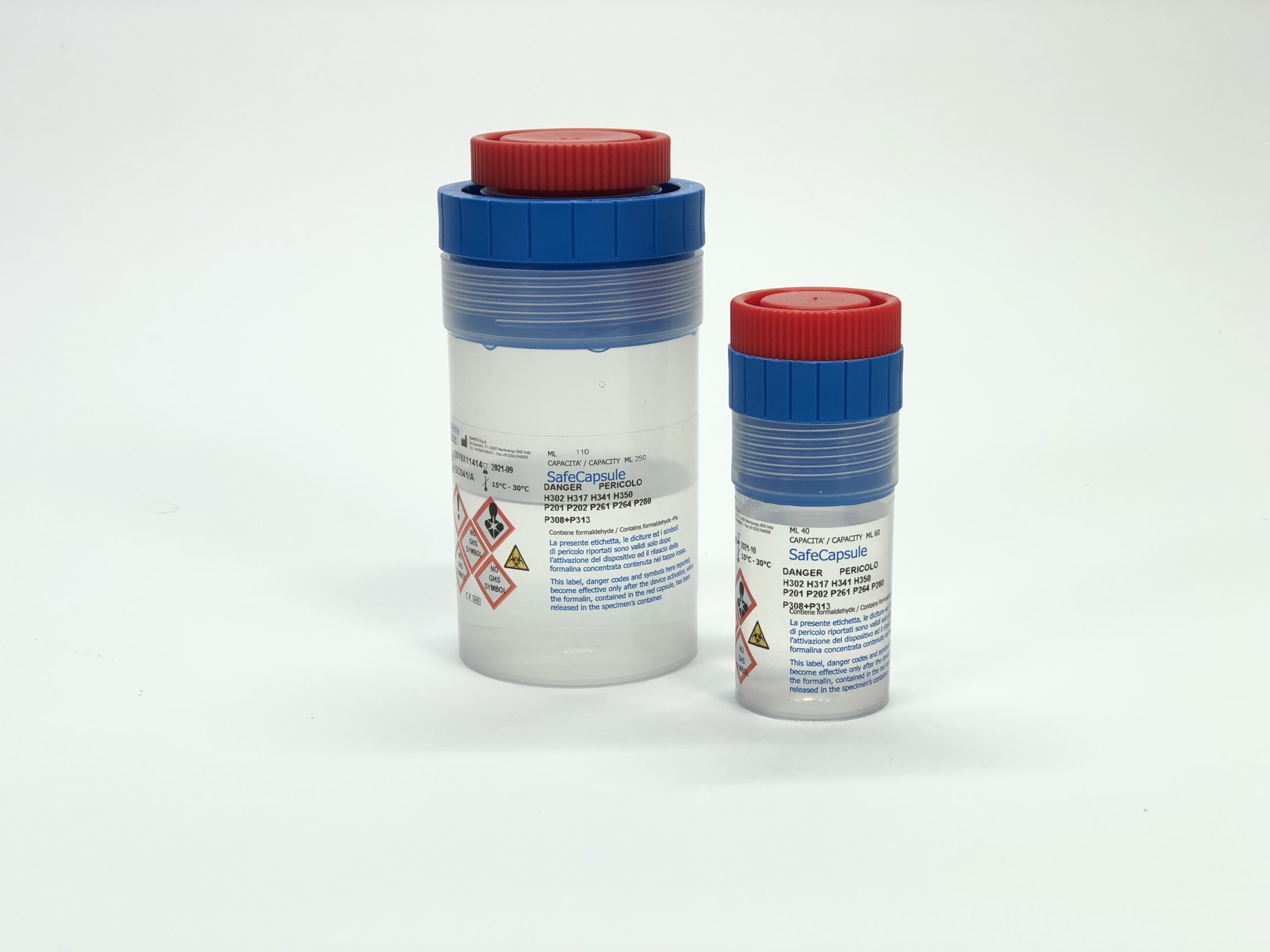 Safecapsule: Innovation in anatomic pathology
Verri - Crescinzi - Lupo - Virgili
---
Italian Journal of Prevention, Diagnostic and Therapeutic Medicine
---
DESCRIPTION
Formaldehyde, as main fixative of choice in medical services, was reclassified as carcinogenic and mutagenic by European Directive N. 895/2014.
Since no valid alternatives are available for the fixation of biological samples intended for microscopic examination, the industry has proposed a series of pre-filled devices with formalin release at closure, which have however shown different logistic and use problems.

For effective formalin management according to current safety standards, a new device with the CE-IVD mark: "SafeCapsule" has been developed by the Campus Bio-Medico University of Rome and the Diapath company.
It consists of a container with a blue screw cap pre-filled with buffer solution and a red safety capsule containing concentrated fixative. The aim of the study was to evaluate the qualities and safety of SafeCapsule during work practice in an Anatomic Pathology Service.
For this purpose, a satisfaction questionnaire and a series of laboratory tests were used.
For operators of medical services, SafeCapsule is ergonomic, very handy, safe and easy to use.

All lab tests have shown: intact cell morphology and cell features staining; accessibility of nuclear, cytoplasmic and membrane antigens; unaltered probe's specificity on DNA sites investigated (as ALK e ROS1 rearrangements, HER2 amplification) in FISH tests; good results in molecular investigations (EGFR mutations).
In conclusion SafeCapsule enables:
elimination of chemical and clinical risk into the work place;
overcoming of technical failure of conventional devices;
great fixation of biological samples for right histological examinations.
---